Happy Monday Crafters!
Amazingly, we have already arrived at the first day of October and that means it is time for our next challenge to get under way! Just 2 months and 24 days until the big day arrives. Whether you are just getting started or are well into your stack, with the cooler temps hitting us, it is a great time to continue with your quest to work on all those Christmas and other December Holiday cards you will need for year end! To provide you with some extra incentive to get your cards completed, we have some lovely prizes available! So, why not join us for your chance to win?!
It is now time to get down to the business of our latest challenge. Here is what you need to know...
The Basics
While you can find out
ALL
the information you need to know in order to participate in the challenge by checking out the '
Challenge Details
' tab at the top of the page (or by clicking
HERE
), here is a refresher of the basics.
Anyone can link up as many Christmas and/or December holiday themed cards (including Happy New Year's cards) throughout the month with an ANYTHING GOES theme.
Every person who has linked up a MINIMUM of two (2) cards will be eligible to receive a specially designed Christmas themed digital paper.
Each month there will be an OPTIONAL theme to follow. Anyone who submits a card adhering to the monthly theme, will have the chance to win a prize from that month's guest sponsor.
ALL entries adhering to our basic rules also have the opportunity to win a mini pack of digi papers each month as well.
Now that the basics are out of the way, how about we get on with the details of Challenge #46.
Challenge #46
Optional Theme:
Gear Up For Winter
While we've officially just started fall, winter is just around the corner; so, it is time to expect cooler temperatures settling in for some parts of the world, particularly for those locations in the Northern Hemisphere! As such, it is time to start thinking about heading to the back of the closet and digging out all your warmer weather clothing and winter gear you might use in order to be prepared for when these colder temps hit. We've been know to have snow as early as October in the area I live and incredibly, there was a freak snow storm in parts of Alberta just a couple of weeks ago. The weather is about to change and with these colder temps comes opportunities for new sporting adventures such as skating, skiing and snowshoeing.
That is why this month, in order to have a chance to win the prize from our guest sponsor,
we want you to create a card that has
warm winter clothing and/or possibly other gear that one might adorn oneself with in the winter.
Some examples of winter clothing include
hats, mitts, muffs, scarves, warm sweaters, coats, boots, etc.
When we are talking about winter gear, we are referring to items that
MUST
be attached to a person's body in order to use them; so, items such as
skates, skis, snowshoes, snowboards, etc
. The clothing or items can be an image on its own or it can be something that a character is wearing (whether a person, animal or other type of character). As long as some sort of winter clothing or other winter gear features prominently in your image, it is entirely up to you.
If you do follow the optional theme, be sure to add FT after your name so that we include you in the draw for the prize.
Keep in mind though, that you don't need to follow the theme to link up your cards and earn a free paper each month or for a chance to win the featured paper set. You only need to follow the theme if you want a chance to win
THREE
images from the
Pattie's Creations
store.
Talking about
Pattie's Creations
, it is time to refresh ourselves with the details of this returning sponsor…
I am an Internet Technology Professional and an Artist. I always dreamed of being an artist, but I found out quickly that I needed another field to support my family so I pursued a Degree in Information Technology. I love to use Adobe Photoshop and Fireworks to enhance my work. I just recently started selling my very own digital images and I am so excited to be here sponsoring this Challenge.


I created a character called Pattieboop and her cat named Allie. I have had so much fun coming up with different images so I also created a site to sell them. You can go to my store to find out more about Pattieboop & Allie. I know you will just love them when you see them.
Etsy Store: http://www.etsy.com/shop/pattiescreations Challenge Blog: http://pattiescreationschallenge.blogspot.ca/
Check out the wonderful images that the team worked with this month for the start of the challenge. Clicking on any of the image watermarks will take you to their page in the
Pattie's Creations
store where each of these images can be found.
Penguin Igloo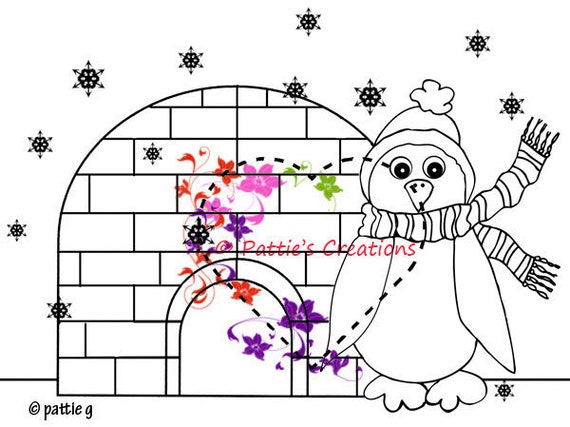 You'll get to see more amazing projects using images from our sponsor during our midway so be sure to come back again at that time!
Sadly it has become the norm these past few months that having the paper set ready at the start of the challenge is a hit or miss. Given the latest series of events in my life, I haven't had a moment to even start this month's set. I'm not sure whether it will get done in time for a poll at the midway, but there will definitely be one ready for the prize. Thankfully at least, last month's set is almost ready--just one more paper to go and then I can get started on the Oct. set. If I do manage to get the set completed in time, I'll upload the preview and get the poll added to the midway post. Once again, this means that no one from the Sleigh Belles team will be using the new set and it is hard to say whether it will be done in time for anyone from the Merry Maidens to use. In case you're wondering, the set will be composed of warm weather clothing and possibly some winter gear as well.
Now check out what the
Sleigh Belles
came up with to inspire you. Clicking on the names will take you to the individual blogs where you can check out the details for all these wonderful cards...
So what are you waiting for? It is time to link up your Christmas and other holiday cards for October
!

If you are new to this unique challenge, you can find out the impetus behind why I started it under the 'Introductions' tab and all the details you need to know in order to participate, in the 'Challenge Details' tab (both tabs located at the top of the blog).
We have a packed month as usual; so, Pat and I and the rest of the gang hope to see you back with us soon!
The winner announcement for Challenge #41 will posted as soon as I can manage.
Then, be sure to join us again on October

15th, for our midway post where you'll get to see cards created by the Merry Maidens!
Pat will hopefully be here towards the end of the month with something special to share!
Other special posts may be published throughout the month. Be sure to sign up to have our posts delivered by email or follow us through Bloglovin' so you don't miss a thing!
CHALLENGE DETAILS SUMMARY
Each month we'll include a summary of details for the particular challenge taking place. If you are new, please be sure to familiarize yourself with all the details and rules in the '
Challenge Details
' tab at the top of the page. Please note that dates and times listed below are for this particular challenge only:
Cards for this challenge will be accepted from 6:00 p.m. (18:00 hrs), October

1st until 11:59 p.m. (23:59 hrs), October

31st, 2018. All times listed are in EDT (Eastern Daylight Savings Time).

If you wish to receive the free digi paper being offered up for this month, you need to link up a minimum of two (2) Christmas or holiday themed cards.
If you receive a free digi paper, you are not obliged to use it in any future link up; though, if you do create something, be sure to let me know as I'd love to see it.
This is NOT a progressive challenge. You can jump in at any time.
You are allowed to enter as many Anything Goes cards as you'd like. HOWEVER, please note that if you follow the optional theme for the chance to win this month's

prize

of

THREE images from the Pattie's Creations store, only a maximum of three (3) entries will qualify for the sponsored draw.
If you do follow the optional theme, be sure to add FT after your name so that we include you in the draw for the prize.
Make sure when entering your project that you mention

The 12 Months of Christmas Link Up

in your post with a link back to this blog.
Please remember to link directly to your blog post where we can see your creation, and not just the generic link to your blog.
We look forward to seeing you participate!
Link Up Below:
If you have any problems linking up, please be sure to leave a comment.

The 12 Months of Christmas Link Up Challenge #46
Please link up your Anything Goes Christmas and/or December holiday themed CARDS with the optional theme of Gear Up For Winter below. Don't forget that i
f you do follow the optional theme,

be sure to add FT after your name

so that we include you in the draw for the prize. Please see above for all the rules and details.
Members of the EU Please Note:
By entering your Personal Information (i.e. name, blogpost address, email address) into any type of link up on this blog, you are giving your consent to having your name and blogpost link visible to everyone who visits this site. While we also request that you submit your email address when adding a card to any link up, this particular piece of Personal Information is kept private. It is only visible to me, Lisa Décosse, the owner of this blog or my designate (see more on how your email address is used below).
By commenting on any post on this blog, you are also giving your consent to having your name and blogpost link visible to everyone who visits this site (unless of course, you have left a comment by remaining anonymous).

If you are a winner or top pick in an event that you have entered, a copy of your entry information will be published in a separate winners announcement post. This entry information may include the following:

your name and/or possibly your blog name
the blogpost address of the card that you linked up
a copy of the image that you originally linked up

Should you qualify to receive a free digi paper by linking up two or more cards, or possibly win the full set of Digi Papers for any particular month and have linked up two or more cards, we will use the email address provided to send out your prize.
Your continued use of this blog and any services it may provide will constitute your acknowledgement and acceptance of this notice.A full Privacy Policy is being created and when completed will be added to a separate page on this blog.